NEAMC 2018
09 March 2018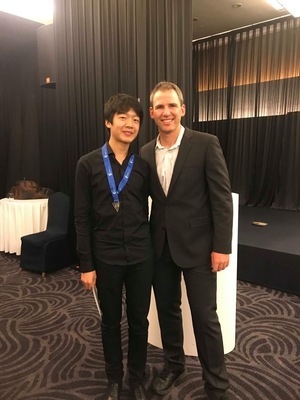 Since its inception in 2014, we have been pleased to sponsor the North East Asia Mathematics Competition (NEAMC). Along with its South East Asia twin, these competitions both divided to two venues this year, making four venues running the same competition concurrently from 26-28 February: Seoul, Beijing, Singapore, and Manila. Each venue was a qualifier for the inaugural World Mathematics Championships (WMC), to be held in Melbourne at the end of June.
I had the pleasure to attend the Seoul competition hosted by Dulwich College Seoul. 183 students participated from schools based in 8 countries. There were two age groups, with Juniors under 15 years old and Seniors from the remainder of the school. The quality of mathematics was exceptional, but the students also need to demonstrate their skills in communication, collaboration, and creativity. This is what really makes this competition special. Some rounds are done as individuals, some in school teams, and some in mixed teams with students from other schools. It is wonderful to see how well the students get on with their peers from other countries, and it is particularly wonderful to see the high proportion of girls participating and winning awards.
The organisers of the competition deserve thorough congratulations. It is an enormous task for anyone to do, let alone as a side-project to regular classroom teaching. International travel, hotels, buses, school venues, timetables, catering, and risk assessments all need to be done, and we have not even started on the competition itself. Ms Chantel Foo from Dulwich College Seoul deserves great praise for her tireless work steering the ship, but all of the teachers involved deserve thanks for the selfless way in which they pitched in to help wherever necessary, in addition to their responsibilities looking after students.
The competition moves at a fast and furious pace, with any spare time the students might have over 2.5 days soaked up making a poster of solutions for one of the rounds. The enthusiasm of the students never waned, however, and they should be commended for their tenacity, working hard right to the end. Medals were awarded in 7 categories, and the top 30 Junior students and top 20 Senior students were awarded golden tickets to the WMC. The Warry Cup was awarded to Seoul International School, being the leading school overall.
One of the pleasures for me as an author is to meet so many students at the competition who use my books. I was thrilled to meet Kevin Xin (pictured) from Discovery College, Hong Kong, who introduced himself at the Gala Dinner. Kevin is a down-to-earth, humble, gently spoken young man with a great gift for mathematics. He first came to NEAMC in 2017, and was sufficiently inspired that he has taken on the International Baccalaureate's Further Mathematics HL course. He is teaching himself the course from our books, and teaching his teacher at the same time! It is truly humbling for us as a company, to be able to contribute to the education of such a bright young mind, and meeting students like Kevin inspires me to continue writing for the small niche courses for the exceptionally gifted. We wish him every success in the FM course, and indeed in all his studies.
Attention now turns to the 2018 WMC final in Melbourne, and I am already looking forward to the competition's continued growth and success in 2019.
Michael Haese