About the Book
Year Published: 2017
Page Count: 538

This book has been produced for the University of South Australia.
Table of Contents
Practical Algebra and Trigonometry
| | | | |
| --- | --- | --- | --- |
| | 1 | Number | 5 |
| | 2 | Real numbers | 23 |
| | 3 | Laws of algebra | 47 |
| | 4 | Algebra | 67 |
| | 5 | Algebraic expansion and simplification | 83 |
| | 6 | Linear equations | 97 |
| | 7 | Radicals and Pythagoras | 113 |
| | 8 | Coordinate geometry | 139 |
| | 9 | Algebraic factorisation | 165 |
| | 10 | Simultaneous equations | 181 |
| | 11 | Quadratic equations | 195 |
| | 12 | Linear equations and inequalities | 211 |
| | 13 | Relations and functions | 229 |
| | 14 | Quadratic functions | 251 |
| | 15 | The unit circle and radian measure | 275 |
| | 16 | Non-right angled triangle trigonometry | 301 |
| | 17 | Trigonometric functions | 323 |
| | 18 | Surds, indices, and exponentials | 359 |
| | 19 | Matrices | 393 |
| | 20 | Real and complex numbers | 443 |
| | | APPENDIX | 473 |
| | | ANSWERS | 481 |
| | | | |
Authors
Author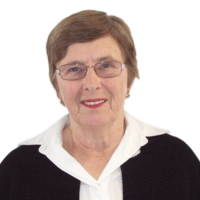 Sandra Haese
Sandra completed a Bachelor of Science at the University of Adelaide, majoring in Pure Mathematics and Statistics. She taught at Underdale High School and Westminster School before founding Haese and Harris Publications (now Haese Mathematics), together with husband Robert (Bob) and colleague Kim Harris.
What drew you to the field of mathematics?
I always found mathematics the easiest subject at school. I'm not sure why. I intended to study Chemistry at university, but found I didn't enjoy it as much as I thought I would – so I came back to mathematics, and have been involved with it ever since.
What motivated you to switch from teaching to writing mathematics books?
Bob used to write notes for his class. Other teachers at the school used the notes, then teachers at other schools started asking for them. Eventually Bob said, "Well, I might as well start writing textbooks!"
Initially, I was proofreading. As the workload increased, I began editing as well as proofreading. It just gradually became a full-time job, between writing material, editing and proofreading it, and then distributing the books. These days, Michael does the editing and I do proofreading and audio.
How has the field of textbook publishing changed in the years since you started?
When we started, text was typed and worked solutions were handwritten. Bob would draw any graphics by hand.
We moved to typesetting, but writing a mathematics textbook with the printing tools available presented its own difficulties. For example, symbols had to be copied, cut and pasted by hand onto the original pages, which was very tedious and time-consuming! Fractions were also problematic: we would type a line containing all the numerators, and then a line underneath for all the denominators.
Now it's all done by computers, which is very much easier, and quicker!
What interests you outside mathematics?
I own a few alpacas. I enjoy my garden - I don't do much in it, but I enjoy it! I like listening to music; mainly classical, but I enjoy other genres as well.
I really love to travel. The scenery, the history of a place, its architecture, its art – all of those things fascinate me. As a result I also enjoy photography; I like taking pictures of the things I've seen and places I've experienced.
Author
Mark Humphries
Mark has a Bachelor of Science (Honours), majoring in Pure Mathematics, and a Bachelor of Economics, both of which were completed at the University of Adelaide. He studied public key cryptography for his Honours in Pure Mathematics. He started with the company in 2006, and is currently the writing manager for Haese Mathematics.
What got you interested in mathematics? How did that lead to working at Haese Mathematics?
I have always enjoyed the structure and style of mathematics. It has a precision that I enjoy. I spend an inordinate amount of my leisure time reading about mathematics, in fact! To be fair, I tend to do more reading about the history of mathematics and how various mathematical and logic puzzles work, so it is somewhat different from what I do at work.
How did I end up at Haese Mathematics?
I was undertaking a PhD, and I realised that what I really wanted to do was put my knowledge to use. I wanted to pass on to others all this interesting stuff about mathematics. I emailed Haese Mathematics (Haese and Harris Publications as they were known back then), stating that I was interested in working for them. As it happened, their success with the first series of International Baccalaureate books meant that they were looking to hire more people at the time. I consider myself quite lucky!
What are some interesting things that you get to do at work?
On an everyday basis, it's a challenge (but a fun one!) to devise interesting questions for the books. I want students to have questions that pique their curiosity and get them thinking about mathematics in a different way. I prefer to write questions that require students to demonstrate that they understand a concept, rather than relying on rote memorisation.
When a new or revised syllabus is released for a curriculum that we write for, a lot of work goes into devising a structure for the book that addresses the syllabus. The process of identifying what concepts need to be taught, organising those concepts into an order that makes sense from a teaching standpoint, and finally sourcing and writing the material that addresses those concepts is very involved – but so rewarding when you hold the finished product in your hands, straight from the printer.
What interests you outside mathematics?
Apart from the aforementioned recreational mathematics activities, I play a little guitar, and I enjoy playing badminton and basketball on a social level.
Author
Michael Haese
Michael completed a Bachelor of Science at the University of Adelaide, majoring in Infection and Immunity, and Applied Mathematics. He studied laminar heat flow as part of his Honours in Applied Mathematics, and finished a PhD in high speed fluid flows in 2001. He has been the principal editor for Haese Mathematics since 2008.
What motivates you to write mathematics books?
My passion is for education as a whole, rather than just mathematics. In Australia I think it is too easy to take education for granted, because it is seen as a right but with too little appreciation for the responsibility that goes with it. But the more I travel to places where access to education is limited, the more I see children who treat it as a privilege, and the greater the difference it makes in their lives. But as far as mathematics goes, I grew up with mathematics textbooks in pieces on the kitchen table, and so I guess it continues a tradition.
What do you aim to achieve in writing?
I think a few things:
I want to write to the student directly, so they can learn as much as possible from the text directly. Their book is there even when their teacher isn't.
I therefore want to write using language which is easy to understand. Sure, mathematics has its big words, and these are important and we always use them. But the words around them should be as simple as possible, so the meaning of the terms can be properly explained to ESL (English as a Second Language) students.
I want to make the mathematics more alive and real, not by putting it in contrived "real-world" contexts which are actually over-simplified and fake, but rather through its history and its relationship with other subjects.
What interests you outside mathematics?
Lots of things! Horses, show jumping and course design, alpacas, badminton, running, art, history, faith, reading, hiking, photography ....
Features
A complete electronic copy of the textbook, with interactive, animated, and/or printable extras.

Animated worked examples with step-by-step, voiced explanations.
This book offers SELF TUTOR for every worked example. On the electronic copy of the textbook, access SELF TUTOR by clicking anywhere on a worked example to hear a step-by-step explanation by a teacher. This is ideal for catch-up and revision, or for motivated students who want to do some independent study outside school hours.

This book is available on electronic devices through our Snowflake learning platform. This book includes 15 months of Snowflake access, featuring a complete electronic copy of the textbook.
Where relevant, Snowflake features include interactive geometry, graphing, and statistics software, demonstrations, games, spreadsheets, and a range of printable worksheets, tables, and diagrams. Teachers are provided with a quick and easy way to demonstrate concepts, and students can discover for themselves and re-visit when necessary.